Over 65,000 Members!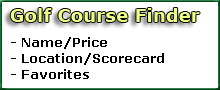 Greenskeeper.org Info
"Know Before You Go"
free online community, golf social network, golf course reviews, course maintenance alerts, photos, specials, tee times, outings, more.
---
Golf Course Maintenance Alerts
291 Posted
Golf Course Reviews
Glen Ivy Golf Club
Glen Ivy, CA
Reviewed by:

dconnally, Mission Viejo, CA
Got out early at 6:30 on Wednesday, 6/19/19, to join GK jefe Johnny, GK legend weber, and Andrew1 for a relaxed, fun round. The course ownership is obviously putting resources into the course and facilities – the driving range has been expanded, roofed, speakered, lighted, and otherwise improved; a banquet/meeting room has been added to the clubhouse; carts look new and have a ...
» More
Glen Ivy Golf Club
Glen Ivy, CA
Reviewed by:

weber, coto de caza
Enjoyed the opportunity to play with Johnny, Dconnally and Andrew1. Great bunch of guys to play with, all good sticks and fine company. Most impressed by how well Johnny bombed the ball off the tee.
I can say without reservation that the course was I the best condition I have ever seen it. The fairways were simply excellent, some of the nicest I've played on recen...
» More
Glen Ivy Golf Club
Glen Ivy, CA
Reviewed by:

Andrew1, Ontario, Cal.
played this morning at 6:30am with Johnny Gk, Weber and Dconnally. First of all thank you Mr. Johnny for getting us on to play. Customer Service Outstanding and the Course condition was very well maintain. New reconstructed Driving Range looks outstanding. I was impressed as to the amount of work that went into this Course making it look great. Greens (for me) were hard to r...
» More