Over 65,000 Members!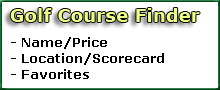 Greenskeeper.org Info
"Know Before You Go"
free online community, golf social network, golf course reviews, course maintenance alerts, photos, specials, tee times, outings, more.
---
Golf Course Maintenance Alerts
50 Posted
Golf Course Reviews
Mission Viejo Country Club: Private
Mission Viejo, CA
Reviewed by:

divotnjay, Imperial Beach
Played Mission Impossible yesterday. A friend of a friend is a member and got us out. Guest rate is a little steep, but gladly pay it for this track. Very fun layout, lots of hills, doglegs, water, trees, etc. Just about everything you want. Teed off at 1pm and finished 18 in the pitch dark.
Teeboxes were very nice. Level with great coverage. No complaints here,...
» More
San Clemente Golf Course
San Clemente, CA
Reviewed by:

weber, coto de caza
I rarely play "away" on the weekends, but with an out of town friend visiting, decided San Clemente was the perfect venue. How wonderful to play this course with great weather, although a little cool in the beginning of the round, it warmed up nicely. Staff was as always very friendly and accommodating. ( Somehow I got out for the resident rate? )
As prior review ind...
» More
Wilson Golf Course
Los Angeles, CA
Reviewed by:

RSandberg, Manhattan Beach
Why is the playground sand in the sand bunker? Because they had leftover, is what I am told. They are terrible and have been for two years. The LA county courses are making tons of $$ with driving range profits, playing profits. I have seen a cut back on all the course of the maintenance crews. The gophers have complete control or Wilson. So bad, hit a perfect drive in the mid...
» More