Over 65,000 Members!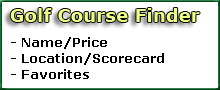 Greenskeeper.org Info
"Know Before You Go"
free online community, golf social network, golf course reviews, course maintenance alerts, photos, specials, tee times, outings, more.
---
Golf Course Maintenance Alerts
976 Posted
Golf Course Reviews
Harding Golf Course
Los Angeles, CA
Reviewed by:

noeldaof, Antelope Valley
October 20 2019 LA City Senior Tournament.
It was a two day event to play both courses- a well ran tournament.
Both days were a beautiful conducive day for golf with a nice blue skies with temperatures in the low to mid 70s and a very light wind. No one had any excuses as for the weather. It was a great weekend.
Course conditions here on Harding is bette...
» More
The Club at Sunrise
Las Vegas, NV
Reviewed by:

rob1563, Las Vegas
Played on Friday, 10/18 with John_T. We made a very last minute decision to play and luckily found a 7ish tee time for $39 (with a $10 food credit) on their site late Thursday night. It was still very dark when we pulled into the parking lot. Checked in and we were told we could follow the 1st group if we were ready after they go at 1st sign of light. We teed off about 20 minut...
» More
Angel Park Golf Club (Mountain)
Las Vegas, NV
Reviewed by:

rob1563, Las Vegas
Played Thursday, 10/17, with a 7:30ish tee time. Paid $45 with the OB Card and grouped with a group of 3 local regulars.
1st time back since the course re-opened about a month ago. Course was in great shape. Still wish they would work on leveling out the tee boxes but they were mostly level with little amount of damage. Fairways have taken to the winter grass and it wa...
» More