Over 65,000 Members!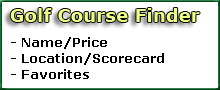 Greenskeeper.org Info
"Know Before You Go"
free online community, golf social network, golf course reviews, course maintenance alerts, photos, specials, tee times, outings, more.
---
Golf Course Maintenance Alerts
96 Posted
Golf Course Reviews
Riverwalk Golf Club (18)
San Diego, CA
Reviewed by:

gary00, san clemente
12/13 guru outing with Jim, Sal, and Mr(birdie chain)GK himself played the blues MIssion/Prersidio in a little over 5hr following a tourney group of sorts with a hard to watch gfroup ahead of us with lessons being given on almost every shot but after a 3 hr front they were finished on 12 and we breezed in to the finish,
My 1st time here and was impressed and challenged by th...
» More
Desert Willow Resort (Firecliff)
Palm Desert, CA
Reviewed by:

rob1563, Las Vegas
Finished up a 36 hole GK guru day with a round on 12/9. Customer service was outstanding. Grabbed a quick bite prior to the round and had to pick from about 6 different hot dog combos, they all looked delicious.
The course was just incredible. The fairways were so perfect that they could easily pass for high end artificial without a blade out of place. Bunkers were fi...
» More
Indian Wells Golf Resort (Celebrity)
Indian Wells, CA
Reviewed by:

rob1563, Las Vegas
Played on Monday, 12/9, with the GK gurus. This was my second time here, but the 1st was over 5 years ago and I could only remember the great service. Service was again outstanding, even the parking lot construction crew who moved their heavy equipment after I unknowingly parked in the middle of their work area.
Course was in phenomenal condition. Just lush and green ...
» More