Over 65,000 Members!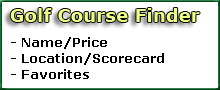 Greenskeeper.org Info
"Know Before You Go"
free online community, golf social network, golf course reviews, course maintenance alerts, photos, specials, tee times, outings, more.
---
Golf Course Maintenance Alerts
75 Posted
Golf Course Reviews
Trump National Golf Club
Rancho Palos Verdes , CA
Reviewed by:

bogeygolf, Fountain Valley, CA
Played 2/19/20 @ 710am with the bounce back coupon they gave out in November. Conditions are top notch right now! Tee boxes level with only a couple uneven ones- I can't recall which ones. The fairways are like carpet and just a little fuzzy- not tightly mown. The rough was really juicy and balls had a tendency to sink down- balls were a little hard to advance. Sand traps were ...
» More
Goose Creek Golf Club
Mira Loma, CA
Reviewed by:

Andrew1, Ontario, Cal.
played today and its a repeat of the what I have been saying about this Jewel in the I.E. Tee boxes looking nice and even, fairways nice and cut, bunkers ( the ones I was in ) had good sand in them and the greens were nicely cut and around 10 or 11 on the stimpmeter. Customer service attendant Bryan Swartz was fantastic. He greeted me and was very pleasant to talk too. I ha...
» More
Sand Canyon Country Club
Santa Clarita, CA
Reviewed by:

24hourgolf, San Marino
Played today on a cold AM. Great easy 3 H round. First off and was grateful when the sun came over the hills. Played Valley/Desert as Mountain had frost delay (no kidding). Great friendly check in by staff. Found the course to be in excellent condition. Tee boxes all had good coverage and no issues. Fairways were green and lush with only a few bare spots on some, just due to ne...
» More