Over 65,000 Members!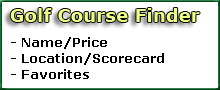 Greenskeeper.org Info
"Know Before You Go"
free online community, golf social network, golf course reviews, course maintenance alerts, photos, specials, tee times, outings, more.
---
Golf Course Maintenance Alerts
18 Posted
Golf Course Reviews
Corica Park Golf Complex (South)
Alameda, CA
Reviewed by:

BSF, Novato, CA
Played an early morning round on 2/16 on the tail-end of a series of very wet and windy storms that rolled through The Bay Area. The weather was mostly cooperative, but very windy & we had to dodge a few showers during the round. Cart Path Only, but it is a very walkable track, so no worries there.
The course was very playable with no plugs and ample fairway roll ou...
» More
Marshall Canyon Golf Course
La Verne, CA
Reviewed by:

weber, coto de caza
31 degrees ! That's right, thirty one degrees when we teed off at 6:15am. Now that's cold ! Frost - everywhere, but no restrictions ??? For those of you who have not played in those temperatures, let me tell you that the ball goes nowhere, not to mention how tough it is to get loose. Bottom line : difficult to score.
The course drained exceptionally well from al...
» More
Peacock Gap Golf Club
San Rafael, CA
Reviewed by:

BSF, Novato, CA
Played an afternoon round on 2/18. Course was really wet, but the weather was sunny, although cold & windy. Our tee time was delayed about 15 minutes & PoP was awful at around 5.5 hours. It was a holiday & one of the first days in a long time that the weather was decent, so I understand why it was so crowded.
With all of the rain we've had, course conditions were ext...
» More