Over 65,000 Members!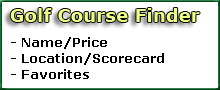 Greenskeeper.org Info
"Know Before You Go"
free online community, golf social network, golf course reviews, course maintenance alerts, photos, specials, tee times, outings, more.
---
Golf Course Maintenance Alerts
419 Posted
Golf Course Reviews
Palatka Golf Club
Palatka, FL
Reviewed by:

livegolf, Charlottesville, VA
This course is a bit difficult to get to, but well worth it. It is a Donald Ross design, although I've read that Ross didn't actually build it. That doesn't matter to me, as what you'll find is an old school charming golf course.
The course is only 5,800 yards but great fun to play! It has small, clever greens with many false edges. It takes a perfect shot to hold one ...
» More
ChampionsGate Golf Club (International)
ChampionsGate, FL
Reviewed by:

livegolf, Charlottesville, VA
The International was another on my list of partially played resorts. I played the National years ago and was back to complete the experience by playing the International.

ChampionsGate Golf Club is part of the Omni brand there are actually three courses here. There are two regulation courses (National and International) and then a short course called the Champions. » More
Goose Creek Golf Club
Mira Loma, CA
Reviewed by:

larryq2001, Brea
Was invited out by cthuyen and his friends to play GC on 3/22. Appreciate the invite and had a thoroughly enjoyable time. On a cool and very busy day, there wasn't much wind which was appreciated as we all know the wind can blow pretty good out here. Played in just under 4.5 hours but it really didn't seem that long.
Cannot really add a lot to the cthuyen's previo...
» More