Over 65,000 Members!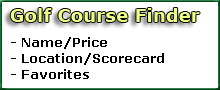 Greenskeeper.org Info
"Know Before You Go"
free online community, golf social network, golf course reviews, course maintenance alerts, photos, specials, tee times, outings, more.
---
Golf Course Maintenance Alerts
371 Posted
Golf Course Reviews
Pheasant Run Golf Course
Chowchilla, CA
Reviewed by:

Alex326, Monterey, Ca
What is usually a favorite valley course, I was dissapointed in the conditions yesterday. Greens remain a strong point in that they were smooth and rolling at a medium-fast pace. Greens held approach shots well and had few pitch marks. Greens were ratted at a 7.5-8. The fairways however were a huge dissapointment. 50/50 green/brown with numerous thin and bare spots throu...
» More
Rio Secco Golf Club
Henderson, NV
Reviewed by:

JohnnyGK, Thousand Oaks
Had the pleasure of playing one of my favorite Vegas golf courses with GK'ers rob1563, kevbig and sixpez last week. With the growing support for GK in Vegas look for many more rounds to come out there with more GK'ers.
Rio Secco Golf Club was as expected a top-to-bottom excellent golf experience. Even on a windy day, even playing badly, even with a heavy head/heart tha...
» More
Boundary Oak Golf Course
Walnut Creek, CA
Reviewed by:

larryq2001, Brea
Up again in No. Cal. visiting friends and family and always, try to get in a couple rounds. As usual, make a stop to play Boundary Oaks. I see I am only rater of this course for some time and don't have a lot to add from previous reviews. On a cold morning, there were a couple of groups already out or on their way to the tee. Waited for a bit and the starter sent me out as ...
» More