Over 65,000 Members!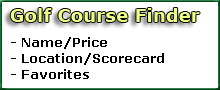 Greenskeeper.org Info
"Know Before You Go"
free online community, golf social network, golf course reviews, course maintenance alerts, photos, specials, tee times, outings, more.
---
Golf Course Maintenance Alerts
634 Posted
Golf Course Reviews
Tijeras Creek Golf Club
Rancho Santa Margarita, CA
Reviewed by:

leef2020, Huntington Beach, CA
Was able to grab a late twilite creek card member $29 rate, teeing off a few minutes late at 2:52pm, and finishing in 4.5hrs, at just about sunset.
Course remains in very good/excellent condition from my last visit a few weeks ago. Fairways did not provide as much run-out, but did provide very good lies. Tees were good and mostly level. Rough was being actively cut muc...
» More
The Westin Mission Hills (Pete Dye)
Rancho Mirage, CA
Reviewed by:

Nickesquire, Rancho Mirage, CA
Rode the Golds (6158/69.5/125), playing 36 twilight as a single in 5H using Forelinx. Mid 90's, fairly calm and clear. Only saw one 2some and another single after 3pm on the whole course.
Most of the landing areas are generous in size, but there is OB down both sides of most holes and numerous holes have water that comes prominently into play. Not a grip it and rip it c...
» More
Hidden Valley Golf Club
Norco, CA
Reviewed by:

abbacat, Trabuco Canyon
Played yesterday, 4-18-19. I had a tee time at 12pm with a reasonable fee of $34. The carts were really nice with ball/club washer and a good GPS. I was paired with a fun threesome of guys who play there regularly.
I played the reds which, although really short, still give me a good challenge with the layups and forced carries on several holes. The course conditions ...
» More