Over 65,000 Members!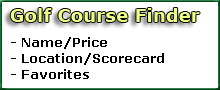 Greenskeeper.org Info
"Know Before You Go"
free online community, golf social network, golf course reviews, course maintenance alerts, photos, specials, tee times, outings, more.
---
Golf Course Maintenance Alerts
317 Posted
Golf Course Reviews
Balboa Golf Course
Encino, CA
Reviewed by:

steve165, Richmond TX
These courses (Balboa Encino) are just close enough to my parents house that I don't quite go crazy sitting in traffic going to or from them. I have really enjoyed playing here on and off for the last several years. The greens, like now are in good shape. They are not fast. Balboa right now may be slightly faster than Encino. I rarely hit a bump on the green or find a bad lie i...
» More
Hunter Ranch Golf Course
Paso Robles, CA
Reviewed by:

Nickesquire, Cambria, CA
Rode the Blues (6751/72.7/138) in 4.5H mid day on a GN Hot Deal. Matched up with Dave, Nick and Greg, very fun group to play with! Partly cloudy, windy and around 75 made for some challenging conditions.
The tees were semi lush, but some could use leveling. Every par 3 needed divot attention.
The fairways have a few brown spots but play better than they look. Mo...
» More
Omni La Costa Resort & Spa (Champions)
Carlsbad, CA
Reviewed by:

Alex326, Monterey, Ca
Played the Champions course today as part of a tournament. This was my first time playing the champions course which is supposedly the premier track of the two. Course was in very nice condition but I have to say that it's about the same as the legends course. Both are in nice shape.
The champions course has a number of water features which make the track fun, chal...
» More