Over 65,000 Members!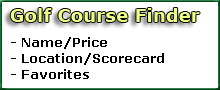 Greenskeeper.org Info
"Know Before You Go"
free online community, golf social network, golf course reviews, course maintenance alerts, photos, specials, tee times, outings, more.
---
Golf Course Maintenance Alerts
931 Posted
Golf Course Reviews
Balboa Park Golf Course
San Diego, CA
Reviewed by:

weber2323, San Diego, CA
Was 2nd off yesterday and cruised around in 3 1/2 hours. We were 3, there was a 2some behind us so it wasn't busy at all out there. Rat's review is spot on. Greens are pretty good. They are not going to wow you with speed but balls did stay on line with the occasional ball mark that needed to be repaired. Still dead areas out there which made for some difficult shots. I d...
» More
Rancho Park Golf Course
Los Angeles, CA
Reviewed by:

roarksown1, Playa del Rey
Bigdana just reviewed Rancho Park after playing there yesterday in the morning while I played a twilight round, but his words are pretty spot on. My 'home' course is in a pretty poor state right now overall and could use a little time off for maintenance.
Got a cart and played the blue tees for around $35, so at least the price was not outrageous for what we got. Was pa...
» More
Rancho Park Golf Course
Los Angeles, CA
Reviewed by:

bigdana, san diego
One of the best layouts in Los Angeles but in poor condition. POP was good at 7am on a Friday but the conditions all around are poor. Tee areas are uneven, fairways are bad and so are the greens. Rolling about 7 and bumpy. Couldn't help noticing the locals I was playing with disrespecting their own course and not repairing ball marks or divots. Pretty sad to see this at one of ...
» More