Over 65,000 Members!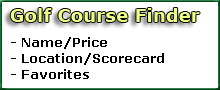 Greenskeeper.org Info
"Know Before You Go"
free online community, golf social network, golf course reviews, course maintenance alerts, photos, specials, tee times, outings, more.
---
Golf Course Maintenance Alerts
976 Posted
Golf Course Reviews
Mountain Vista Golf Course (San Gorgonio)
Palm Desert, CA
Reviewed by:

Nickesquire, Rancho Mirage, CA
Rode the Blacks (6669/71.9/128) using Forelinx. Matched up with Steve, Stew and Alan, 3 nice seniors. POP was 4H, 15M playing in calm, sunny conditions in the low 90's.
The customer service was good as usual here. Drink cart out making the rounds. No driving range onsite, you have to go 1/2 mile down the street where the sister Santa Rosa course has a nice, all grass dr...
» More
Westridge Golf Club
La Habra, CA
Reviewed by:

cthuyen, Los Angeles
Joined a buddy and his two friends at Westridge. Have not played this course in over 7 years. As i approached the cart area, they were letting out two 5 somes ahead of us at 11:45 am. I dreaded that sight and knew we were in for a long day. You would never believe this, but we tee'd off at 12 pm and finished in 4 hrs 15 minutes. Un...believable. I was shocked. Sadly, POP was t...
» More
Rams Hill Golf Club
Borrego Springs, CA
Reviewed by:

Rat-Patrol, San Diego
Pre-opening special, complimentary tacos at the Ram shack, closest to the pin contests (on course and on a simulator featuring the 7th hole at Pebble beach) for free rounds, fun day! Weather was beautiful, cool in the morning warming up as the day went on with just slight easterly winds. The only thing I noticed that they changed was where the counter is located in the pro shop...
» More