Over 65,000 Members!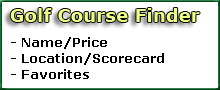 Greenskeeper.org Info
"Know Before You Go"
free online community, golf social network, golf course reviews, course maintenance alerts, photos, specials, tee times, outings, more.
---
Golf Course Maintenance Alerts
57 Posted
Golf Course Reviews
Annandale Golf Club: Private
Pasadena, CA
Reviewed by:

24hourgolf, Monterey Park
Was invited to play here today and readily accepted. The drive into the course is very nice. Then you arrive at a beautiful and stately large white clubhouse, decorated wonderfully for Christmas. Built in 1906 (William Watson and William P Bell 1928 and Brian M Silva 2007). The course is not long (6602 from tips) but it has teeth and great elevation changes. Was really glad I w...
» More
The Links at Terranea
Rancho Palos Verdes, CA
Reviewed by:

weber, coto de caza
What a beautiful day to play Terrnea. Warm, clear, views forever. It wasn't so much that I wanted to play this course again, but while the "boss" shopped at Del Amo. what better way to spend time on a Winter day in Southern California. Perfect.
Nick's prior review was spot on. I too struggled from the bunkers, but mostly because it seemed ever one I found provide...
» More
Altadena Golf Course
Altadena, CA
Reviewed by:

t8fish, Altadena
I went over to Altadena for super twilight yesterday for the first time in a while and started out as a single around 3:40. Caught up with a friend in the group ahead to finish as a five-some. The most noteworthy aspect of the course is that they have changed the sequence, which I will come back to after a quick recap of conditions. Due to timing, I only played 7 holes total, s...
» More