Over 65,000 Members!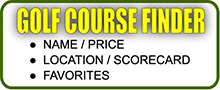 Greenskeeper.org Info
"Know Before You Go"
free online community, golf social network, golf course reviews, course maintenance alerts, photos, specials, tee times, outings, more.
---
Golf Course Maintenance Alerts
264 Posted
Golf Course Reviews
Spyglass Hill Golf Course
Pebble Beach, CA
Reviewed by:

Alex326, Monterey, Ca
Seeing MichaelKo's recent post made me eager to get out to the Glass. Went out and played Spyglass Hill this morning with a slightly earlier tee time (8:30) than normal. Course is in excellent shape as expected. Fairways were a perfect ten. Just slightly better than Ridge Creek which I played again yesterday. Greens had been recently punched with the tiny holes and light ...
» More
Coyote Hills Golf Course
Fullerton, CA
Reviewed by:

24hourgolf, San Marino
Played today. Course is in good shape. Tee boxes clean/playable. Fairways green with good lies and decent roll. Traps all clean/playable and with rakes. Rough pretty much non factor. Greens in good shape but putt a tad slow as they are not cut super close due to heat. Excellent customer service at all levels. No masks required in OC.
Oak Quarry Golf Club
Riverside, CA
Reviewed by:

weber, coto de caza
One of my favorite courses, which I used to play often, but with the massive price increases since Covid, I have stayed away, which is the only method I have to express my dissatisfaction. I had a gift card which I wanted to use, so made the decision to play having secured an early (5:36am) tee time.
Staff was great. Having the first time off, I was told I could tee ...
» More