Over 65,000 Members!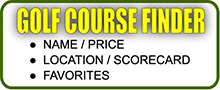 Greenskeeper.org Info
"Know Before You Go"
free online community, golf social network, golf course reviews, course maintenance alerts, photos, specials, tee times, outings, more.
---
Golf Course Maintenance Alerts + COVID-19 Coronavirus
136 Posted
Golf Course Reviews
Rancho Del Sol Golf Club
Moreno Valley, CA
Reviewed by:

ag2000, Moorpark
I was able to get out today to Rancho Del Sol. A good buddy requested that we go here as it is one of his fav's. Pop was around 4 hrs maybe a little slow on the front but picked up on the back. Greens were in great shape today, very true roll and faster than I though, yet they held nicely the approaches. The fairways are dried out from winter and the rough is chewed up. The tee...
» More
Alhambra Golf Course
Alhambra, CA
Reviewed by:

weber, coto de caza
Out early on a really beautiful morning. Always enjoy playing this fun little course, because it provides me with a number of really good birdie opportunities. Lots of easy holes, but still enough of a challenge to keep your interest.
Not too much to add to Larry's last review. Greens roll well, reasonably fast. Most of the fairways have good coverage. Bunkers wer...
» More
Los Serranos Country Club (South)
Chino Hills, CA
Reviewed by:

chevelle, Norco
Played Friday March 5th at 738, range was open so hit a few balls, the range is usually under maintenance that early. We have the weekday card and as of March 1st the price of the south course went up from $38 to $45, don't know how much the north went up. Got out on time and the south was very busy. POP was 432, a bit slow. Most par 3's had a group on the tee box and 2 groups...
» More