Over 65,000 Members!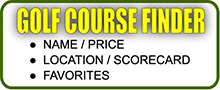 Greenskeeper.org Info
"Know Before You Go"
free online community, golf social network, golf course reviews, course maintenance alerts, photos, specials, tee times, outings, more.
---
Golf Course Maintenance Alerts + COVID-19 Coronavirus
412 Posted
Golf Course Reviews
Glen Ivy Golf Club
Glen Ivy, CA
Reviewed by:

roarksown1, Playa del Rey
Played with my monthly group today at Glen Ivy and, after finally returning for a second play, remembered what a very fun layout this course has and the conditions were mostly good as well. Our group got some nice perks like free range balls and our five groups were accommodated very well with a few of the guys coming in a bit later than expected.
We played from the b...
» More
Roosevelt Golf Course
Los Angeles, CA
Reviewed by:

t8fish, Altadena
Went out Friday 9/18 as a two-some. I've written some full descriptions, as have others, that are still accurate so I will address the anomalies here. They are doing some maintenance in the form of green punching and letting some tee boxes grow out. The greens look to have been punched with tines leaving small holes I would guess to be about 1/16" with no sign of sanding. Their...
» More
San Clemente Golf Course
San Clemente, CA
Reviewed by:

ecjaye949, Mission Viejo, CA
Played 9/10/20 @ 10 am. POP was under 4 hours. Tees good, fairways good, greens slow and bumpy, on 4 or 5 holes theres a strange looking white weed thats growing on the poa annua greens, not sure what it is. Doesn't realy effect the putting surface, how the super will remove this? I wish they could get some speed on these greens, a little to slow for my liking, I just wish ther...
» More