Over 65,000 Members!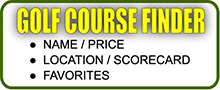 Greenskeeper.org Info
"Know Before You Go"
free online community, golf social network, golf course reviews, course maintenance alerts, photos, specials, tee times, outings, more.
---
Golf Course Maintenance Alerts + COVID-19 Coronavirus
34 Posted
Golf Course Reviews
Green River Golf Club
Corona, CA
Reviewed by:

Circaflex, Tustin, CA
Played today, 12/3 at 8:30AM. No one was out on the course or range which was surprising. There was a ton of wind so the course was challenging.
POP: We finished just around 3 1/2 hours which is great by my standards.
Range: Range was decent; you are limited if you are a big hitter because the range is short; essentially you have to aim into one corner or its over the n...
» More
Bajamar Golf Resort [Baja CA Mexico]
Ensenada, CA
Reviewed by:

irideboards2k3, Los Angeles
A little bit late, played on Friday, 11/30. Was a little skeptical after reading the archived reviews from a couple of years ago but wow was I impressed. The course used to have 3 nines but is now only 2: the Vista and the Oceana. Every single hole has ocean views and the Oceana has the most spectacular views on a course I've ever played. The conditions were great with above av...
» More
Dos Lagos Golf Course
Corona, CA
Reviewed by:

dethman, irvine
met up with a friend here late morning wednesday. this course is probably the cheapest in the south corona corridor so it gets pretty packed. by late morning there was already a wait for carts and they were running about 10-15 minutes behind the tee schedule. check in was generally friendly though when i showed up 10 minutes before my tee time at the counter they asked me to...
» More