Over 65,000 Members!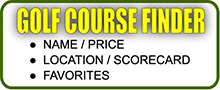 Greenskeeper.org Info
"Know Before You Go"
free online community, golf social network, golf course reviews, course maintenance alerts, photos, specials, tee times, outings, more.
---
Golf Course Maintenance Alerts
601 Posted
Golf Course Reviews
Eagle Crest Golf Club
Escondido, CA
Reviewed by:

gary00, san clemente
5/10 teed off at 830 as a 3some with no waiting and no one following leisurely 350 POP with some delays for wayward golf balls. Nice morning overcast for front 9 and sunny for back but with a little breeze to stay comfortable. Like weber said interesting layout and a work in progress. Found the fairways to be about 50/50 with some really good lies but then could have really ...
» More
Coronado Golf Course
Coronado, CA
Reviewed by:

Rat-Patrol, San Diego
Played 5/10 at 12:30 with Sal, Jon and the one and only DCon! Course was in good muni shape. All around decent and playable. No padding in the cups or any other Covid contraption, but a sign in the pro shop said to not pull any pins. There were rakes in the bunkers which was a first in California for me since the epidemic started.
Tees: level mostly decent
Fairways: mo...
» More
Simi Hills Golf Course
Simi Valley, CA
Reviewed by:

PokerGuy0826, Simi Valley
We played Simi Hills last Tuesday 5/4/21 and were able to have 2 matches in the GK Cup.
The course is shaping up nicely after recently punching the greens and in anticipation of the City Championship the first week of June. Tees are flat and lush with a few bare spots on edge, but typical;;y not in play. The fairways are much the same with nice grass and occasional b...
» More