Over 65,000 Members!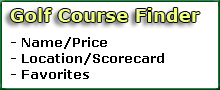 Greenskeeper.org Info
"Know Before You Go"
free online community, golf social network, golf course reviews, course maintenance alerts, photos, specials, tee times, outings, more.
---
Golf Course Maintenance Alerts
983 Posted
Golf Course Reviews
Ojai Valley Inn Golf Course
Ojai, CA
Reviewed by:

sbarajasjr, San Diego
Played here 10/20 with my girlfriend's father on a GolfNow Hot Deal for ~$75 on what was originally a 12:50PM tee time. There was lots to unpack from this round which I will save for my ETC section. The review of the actual course is as follows:
Tee boxes: The weakest part of the course today and that's really not saying much as they were fairly playable, sans a couple o...
» More
Arrowhead Country Club
San Bernardino, CA
Reviewed by:

FirstFlightFX-101, San Bernardino, CA
Golfed the white tees alone, Monday 10/21, as there were still some empty slots allowing it. Weather was awesome.
I left my driver and 3 wood in the truck, but kept the 22 deg hybrid in the bag. My Ginty was the only wood in the bag, and I used it only twice from the deep rough(no lie is safe from my Ginty). Every club in the bag, got exercise today ;-)
Tee boxes ...
» More
Rams Hill Golf Club
Borrego Springs, CA
Reviewed by:

SBogey, Big Bear
Played 10-20-19 with a group of GKers. Took advantage of the pre opening deal. Course is almost ready but could use a couple more weeks to fill in. Tee boxes were flat and nice. Bunkers were perfect. Greens were OK running a bit slower than what it will be later in the season. There were several spots in the fairways that hadn't grown in and should have been marked as ground un...
» More