Over 65,000 Members!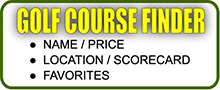 Greenskeeper.org Info
"Know Before You Go"
free online community, golf social network, golf course reviews, course maintenance alerts, photos, specials, tee times, outings, more.
---
Golf Course Maintenance Alerts + COVID-19 Coronavirus
867 Posted
Golf Course Reviews
Coyote Moon Golf Course
Truckee, CA
Reviewed by:

Deepsea14, Granite Bay
Played the final day of the course's season 10/18/20. Second group of day out at 10:10
Greens a little faster than normal.
Fairways had been punched late September and recently the areas around the greens and bunkers not fringe. Some par three white tee boxes (#8 for sure) need some over-seeding.
Had a great season here taking advantage of a ten play package u...
» More
Woods Valley Golf Club
Valley Center, CA
Reviewed by:

AndrewZ28, Vista, CA
Played out GK Cup match out here Sunday afternoon, teeing off at 2:10 PM. Everything seemed pretty consistent with Covid rules, nothing out of the ordinary.
I've always been a big fan of Woods Valley. I know the back nine kind of gets most of the attention with holes back in the trees/canyons, but I think there are some really interesting holes strategically on the fro...
» More
Diamond Bar Golf Club
Diamond Bar, CA
Reviewed by:

larryq2001, Brea
A little late with this review as I played DB on 10/14 with a 7:50 tee time for 4 of us. We checked in a little early with the young man behind the counter who was not exactly the most customer friendly guy in the world. Get this kid in a customer service class soon please. He could use it. We kept asking him when we will go off and would he call us to the tee. He said on...
» More