Over 65,000 Members!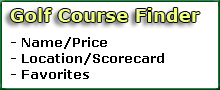 Greenskeeper.org Info
"Know Before You Go"
free online community, golf social network, golf course reviews, course maintenance alerts, photos, specials, tee times, outings, more.
---
Golf Course Maintenance Alerts
86 Posted
Golf Course Reviews
The Links at Summerly
Lake Elsinore, CA
Reviewed by:

carl17, Anaheim
Thursday 8:10 start 54 degrees warmed up to 73 at 10:50 finish. Skipped around a couple holes to pass member groups then easy return to complete full 18. Tight cut fairways appeared dormant and dry still areas without coverage. I just play to land in grassy locations and hit approach shots from them instead of bounding through barren areas. Makes for some interesting shots. Fou...
» More
Torrey Pines Golf Course (South)
San Diego, CA
Reviewed by:

lotrgolfer48, San Diego
Picture perfect golfing weather with Rat-Patrol this morning. It was nice not to have the humps and bumps of afternoon Poa that I usually get when I come out for twilight. Greens excellent running 10-10.5. Fairways great although I found few of them today. Rough, thick and juicy but lies were typically very manageable unless the ball settled (Then... good luck). Bunkers are flu...
» More
Eagle Glen Golf Club
Corona, CA
Reviewed by:

Forest92, Toronto
Played 2/20 with a 10:00am tee time. Proshop and starter very pleasant, paired up with a couple of Orange County deputies!
Interesting course with a lot of elevation changes on the front nine, more flat on mostly dormant which meant a lot of roll, sometimes into trouble! The tees were mainly flat with some bare patches and the traps were a mix of hard and very hard. The gre...
» More