Over 65,000 Members!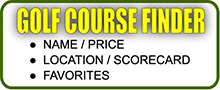 Greenskeeper.org Info
"Know Before You Go"
free online community, golf social network, golf course reviews, course maintenance alerts, photos, specials, tee times, outings, more.
---
Golf Course Maintenance Alerts
129 Posted
Golf Course Reviews
Torrey Pines Golf Course (South)
San Diego, CA
Reviewed by:

Rat-Patrol, San Diego
Got lucky and snagged a single spot at 8:30 after lots of looking. I thought the course was in great shape. I played well, for the most part, so that always puts a different light on things, everything was just peachy. Greens rolled well, tees were level, fairways nice, bunkers good, rough thick and nasty.
Raven Golf Club Phoenix
Phoenix, AZ
Reviewed by:

UNCLEDDBOY23, Peoria, Arizona
Overview: The Raven Golf Club Phoenix is located just southeast of downtown Phoenix and just north of South Mountain. There are great views of the downtown area, Four Peaks, South Mountain, Camelback Mountain and Piestawa Peak. Raven - Phoenix is not your normal desert course ... it has almost 6000 pine trees on property.
Clubhouse: A nice, clean clubhouse that h...
» More
Hunter Ranch Golf Course
Paso Robles, CA
Reviewed by:

Nickesquire, Cambria, CA
Rode the Blues (6751/72.1/136) in over 4 1/2 H with Perry mid day on a GN "Hot Deal". Sunny, fairly calm and around 70 made for pleasant golfing conditions. Played behind a slow 4some and waited most shots.

Tees were the weak link and a mixed bag. Some thin and not that well maintained for divots, others immaculate?

Fairways mostly lush and good to play from. » More