Over 65,000 Members!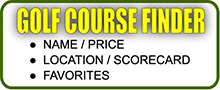 Greenskeeper.org Info
"Know Before You Go"
free online community, golf social network, golf course reviews, course maintenance alerts, photos, specials, tee times, outings, more.
---
Golf Course Maintenance Alerts + COVID-19 Coronavirus
274 Posted
Golf Course Reviews
Mountain Meadows Golf Course
Pomona, CA
Reviewed by:

roarksown1, Playa del Rey
Sunday foursome at Mountain Meadows this past weekend. Got an online rate of $61 + cart through Golfnow.com, but when we arrived, there was an issue with them finding the reservation. Got it sorted out eventually but not after hearing many bad stories of them working with Golfnow.com - so why do they still do it? Anyway.
Super fun track with lots of terrain variations, n...
» More
The Club at Sunrise
Las Vegas, NV
Reviewed by:

John_T, Las Vegas
Played sunrise 7/6/20 with a 7:30 start to get out before the real heat settled in. Even though this course is in an older part of Vegas, it is well worth playing. Very reasonable prices and pace of play was great at just over 3 and a half hours.
Like every other clubhouse in Vegas, you can't go in without a mask. Single rider carts for everyone too, unless you live ...
» More
Arrowood Golf Course
Oceanside, CA
Reviewed by:

Solinari619, San Diego
Played Arrowood on 7/5/2020 teed off at 11:20. Walked the silvers in about four hours and fifteen minutes. Staff was very friendly and ensuring COVID 19 safety (masks required in central area, starter, and in side the pro shop.)
Course was in pretty good shape. The greens were smooth with minimal marks. The fairway was a lot softer than normal. Rough was thick in s...
» More