Over 65,000 Members!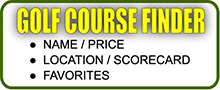 Greenskeeper.org Info
"Know Before You Go"
free online community, golf social network, golf course reviews, course maintenance alerts, photos, specials, tee times, outings, more.
---
Golf Course Maintenance Alerts + COVID-19 Coronavirus
87 Posted
Golf Course Reviews
Mission Hills North Gary Player
Rancho Mirage, CA
Reviewed by:

thingstodo, San Dimas
Played Saturday 9:20. Perfect weather course was really nice. Fairways and greens were perfect. Rough was dormant and some areas were penalizing others were not. A lot of mounds and valleys if you're offline off the tee, small greens were receptive and it was hard to see where the ball landed.
Played from the gold tees and most of the fairways are wide. There is a lot of ...
» More
Chula Vista Golf Club
Bonita, CA
Reviewed by:

divotnjay, Imperial Beach
Played here on Saturday, 2/27, with a Facebook group outing. There was over 80 of us, I believe, and the course did a great job handling the volume. No shotgun, had regular teetimes from 8am-11am. POP was pretty slow, as to be expected with all the festivities going on, it was overall about 5hrs. But we had fun, nonetheless. Enjoyed everyone's company and had a lot of ...
» More
Rams Hill Golf Club
Borrego Springs, CA
Reviewed by:

friarman, San Diego
WOW! beautiful day at Ram's Hill with a great friends! Course was in fantastic shape, weather was a perfect low 70's with a light breeze. Greens were hard and fast, I had 6 birdie looks and only got 1 of them. That's a testament to how tough the greens played rolling at a 12!
Tees: Amazing better than my carpet in my house
Fairways: perfect
Rough: short
Bunker...
» More