Over 65,000 Members!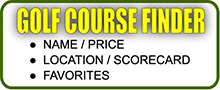 Greenskeeper.org Info
"Know Before You Go"
free online community, golf social network, golf course reviews, course maintenance alerts, photos, specials, tee times, outings, more.
---
Golf Course Maintenance Alerts + COVID-19 Coronavirus
34 Posted
Golf Course Reviews
Los Verdes Golf Club
Rancho Palos Verdes, CA
Reviewed by:

mcantos, lake forest
Played Los Verdes today with other men's club members and we teed of at 12:45 this afternoon. Pre COVID we never would have finished, today we finished at 5:05 pm and we had to wait on maybe a couple of holes. The course is looking good now it's great to play only 4 instead of the usual fivesomes. Tee boxes for the most part are good and even the par 3's are looking nice wi...
» More
The Revere Golf Club (Concord)
Henderson, NV
Reviewed by:

Circaflex, Tustin, CA
Played here on 1/24 with Matt, Rob and Tim. Absolutely fantastic course! The weather was cold and there was a frost delay, however the inside cafe and bar is open for seating. The staff was friendly and welcoming.
Range: Range is grass and there are a good number of stalls available. They also have a large practice putting green. You purchase balls inside or at the mac...
» More
Paiute Golf Resort Las Vegas (Wolf)
Las Vegas, NV
Reviewed by:

Circaflex, Tustin, CA
Tee'd it up with Matt, Rob and Johnathan as part of the GK Event. I had an absolute blast and this course is spectacular! One of my new all time favorites.
Facility: The snack shop is open and the bar was seating limited people. They have a very nice all grass range, only knock is they use pinnacle golf balls for the range. Nice chipping area and putting green. Staff w...
» More