Over 65,000 Members!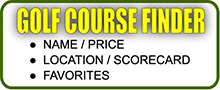 Greenskeeper.org Info
"Know Before You Go"
free online community, golf social network, golf course reviews, course maintenance alerts, photos, specials, tee times, outings, more.
---
Golf Course Maintenance Alerts
264 Posted
Golf Course Reviews
Soule Park Golf Course
Ojai, CA
Reviewed by:

dangerousbri, La Crescenta
Went out here on a warm weekend. Definitely bake under the sun. Nice breeze though. I'm not as high on the course as some of the other recent reviews. Greens were great. Not too tough but large links style greens. Most tee boxes were level, with only 1 or 2 searching for a slightly better place to tee off from. Sand is great. The threesome I played with mentioned that t...
» More
Santa Anita Golf Course
Arcadia, CA
Reviewed by:

weber, coto de caza
Always a pleasure to play Santa Anita. It's one of the nicest walks around. Just a wonderful parklike setting with good views of the foothills. If you enjoy old style tradition golf courses, Santa Anita should satisfy your needs. Rolling fairways with all the "Red Cars" buried underneath provide for some challenging stances/lies.
Course is in good, not great condit...
» More
Spyglass Hill Golf Course
Pebble Beach, CA
Reviewed by:

Alex326, Monterey, Ca
Seeing MichaelKo's recent post made me eager to get out to the Glass. Went out and played Spyglass Hill this morning with a slightly earlier tee time (8:30) than normal. Course is in excellent shape as expected. Fairways were a perfect ten. Just slightly better than Ridge Creek which I played again yesterday. Greens had been recently punched with the tiny holes and light ...
» More