Over 65,000 Members!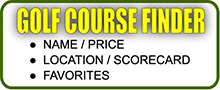 Greenskeeper.org Info
"Know Before You Go"
free online community, golf social network, golf course reviews, course maintenance alerts, photos, specials, tee times, outings, more.
---
Golf Course Maintenance Alerts + COVID-19 Coronavirus
117 Posted
Golf Course Reviews
Spyglass Hill Golf Course
Pebble Beach, CA
Reviewed by:

Alex326, Monterey, Ca
Played The Glass this morning with a 9AM tee time. Weather was absolutely perfect. Nice and sunny from start to finish with only an occasional very light breeze. With the beautiful clear weather it was nice to enjoy the numerous ocean views throughout the course. Yes, the first 5 holes are on the water but there are another ½ dozen holes with views of the bay as well. ...
» More
Menifee Lakes CC (Palms)
Menifee, CA
Reviewed by:

sd3bs, Temecula, CA
Early morning round on Sunday in a little over four hours. The staff and rates are great as are the carts. The tee boxes were all in really good condition with only the 15th back tee box being sloped. The rough was just long enough to stop most shots but short enough to hit from. The fairways have been overseeded and are in pretty nice shape. There were sections where dorm...
» More
El Dorado Park Golf Course
Long Beach, CA
Reviewed by:

NutNButCup, Buena Park
Teed off shortly before 8am and finished in 4 hours. The greens were the highlight. They rolled smooth with medium/fast speed and held shots. The fairways had a lot of good coverage but there are many areas throughout that are quit thin or bare. The rough is mostly good with some thin/bare spots and long enough to affect shots but not too penal. The two bunkers I was in were a ...
» More