Over 65,000 Members!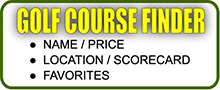 Greenskeeper.org Info
"Know Before You Go"
free online community, golf social network, golf course reviews, course maintenance alerts, photos, specials, tee times, outings, more.
---
Golf Course Maintenance Alerts
11 Posted
Golf Course Reviews
Marine Memorial Golf Course
Camp Pendleton, CA
Reviewed by:

zachary, Carlsbad
Got a chance to play this gem. Love this course and the price and everything that goes with it. Customer service was great, from check in to the halfway house. Tees were not very level but had good coverage and could always find a flat spot but they will need work soon. Fairways great and rough was not bad but patchy. Sand was great as were the greens , fast and fun pins t...
» More
Meadowlark Golf Club
Huntington Beach, CA
Reviewed by:

gbergo, Anaheim, CA
Played Friday, January 14th mid-day. The course was in good shape and the pace was better than normal for a Friday. Fairways were pretty solid and the rough was normal. The greens were really fast considering the rain earlier in the week.
The Lodge at Ventana Canyon (Mountain)
Tucson, AZ
Reviewed by:

Nickesquire, Tucson, AZ
Rode the Greens (6537/71.4/139) in 3.5H mid day as a 3some. Mid 60's, partly cloudy and calm.
Overseeded tees excellent. Only a few divots here and there, level/lush.
Overseeded fairways lush and nice to play from.
Bermuda rough mostly dormant and maintained at a level that the ball often sat up. Not overseeded, provides a great contrast with the lush gre...
» More