Over 65,000 Members!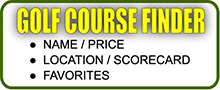 Greenskeeper.org Info
"Know Before You Go"
free online community, golf social network, golf course reviews, course maintenance alerts, photos, specials, tee times, outings, more.
---
Golf Course Maintenance Alerts
548 Posted
Golf Course Reviews
Arroyo Golf Club at Red Rock
Las Vegas, NV
Reviewed by:

ChrisinVegas, Las Vegas
Red Rock Arroyo is dependably in good condition, and even more so now (4/15/21) as I think this is as good as I've ever seen it! The layout is enjoyable, interesting, and on occasion, scenic as well. Use of the range is included, has good balls and you warm up hitting on grass. Nice! It's quite a drive to it from the clubhouse and also to the 1st tee, though, so allow a little ...
» More
Dublin Ranch Golf Course
Dublin, CA
Reviewed by:

OldCaddy, Alamo, CA
In over 60 years of playing golf I'm pressed to come up with a course in as poor a condition as Dublin Ranch (played 4-15-21). The greens were like aerated hard pan, the fairways were dried out and spotty and I hope they got a discount on "Ground Under Repair" signs as there were at least 50 of them throughout the premises. Yes, I know "Pandemic, Pandemic" but even with a Te...
» More
Rancho Las Palmas Country Club
Rancho Mirage, CA
Reviewed by:

Nickesquire, Rancho Mirage, CA
Rode the Blacks on the South/North combo (6343/69.2/124) twilight on a GN "Hot Deal". Then played the North again. Got in 27 holes in 4H, 20M, mostly as a single. Low 80's, sunny and fairly calm.
Tees very lush and well maintained.
Fairways lush and nice to play from.
Rough lush and thick but not overly tall. Still somewhat penal.
Sand traps had ...
» More