Over 65,000 Members!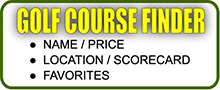 Greenskeeper.org Info
"Know Before You Go"
free online community, golf social network, golf course reviews, course maintenance alerts, photos, specials, tee times, outings, more.
---
Golf Course Maintenance Alerts + COVID-19 Coronavirus
189 Posted
Golf Course Reviews
Costa Mesa CC (Mesa Linda)
Costa Mesa, CA
Reviewed by:

weber, coto de caza
Out early with a couple friends who are at best "casual golfers", so this was a perfect course to play. Biggest challenge was making sure that we maintained a decent pace of play. We never held up the group behind us, so mission accomplished.
Fun course to play, and with the course being on the short side, it helped my playing companions. That plus there is not a whole...
» More
Black Gold Golf Club
Yorba Linda, CA
Reviewed by:

24hourgolf, San Marino
Played this AM. Just under 4 H POP. Place was packed. Golfers arriving before tee times and causing chaos at starter. 1st tee time is 7 AM? Perhaps they should modify that? Once on the course players seemed to be aware of POP and that was a good thing. Course is in great shape, just over watered due to recent heat wave. Tee boxes were all fine. Fairways were lush/green but very...
» More
The Crossings at Carlsbad
Carlsbad, CA
Reviewed by:

mcantos, lake forest
Played The Crossings at Carlsbad on a cool Sunday afternoon with all the Covid restrictions in place. I played with a couple from Temecula and they were very nice. The tee boxes were better than average with most divots filled in and having said that sand was available on the carts and by the looks of things divots were filled in on the fairways as well. The fairways were gr...
» More