Over 65,000 Members!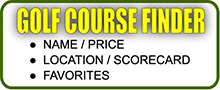 Greenskeeper.org Info
"Know Before You Go"
free online community, golf social network, golf course reviews, course maintenance alerts, photos, specials, tee times, outings, more.
---
Golf Course Maintenance Alerts
602 Posted
Golf Course Reviews
Costa Mesa CC (Los Lagos)
Costa Mesa, CA
Reviewed by:

ggonzales, Anaheim
Early morning tee time Thursday morning on Lagos. Check in still outside with masks required around clubhouse area. Tee boxes in very good shape with markers set very wide, fairways and rough were very lush and provided good lies. Bunkers in good shape but still no rakes. Greens were on the slow side with very few unfixed divots and firm on pitch and chip shots. POP was under f...
» More
Indian Hills Golf Club
Riverside, CA
Reviewed by:

chevelle, Norco
Played Friday may 14th at 8am, everything open, relaxed check in, tees boxes better than last time, fairways good with a few brown spots, was in 3 bunkers and while the sand wasn't lush, it was playable and I actually got out the first time on all 3, and there were rakes in the bunkers, greens are all recovered and rolled nice. Saw beverage cart 3 time. Feel of course is it ...
» More
River Valley Ranch Golf Club
Carbondale, CO
Reviewed by:

24hourgolf, San Marino
Another great day of golf in CO. I played here a few years ago and have been wanting to get back here again. As you will see, I was the last one to post about this course, so I won't get carried away. Great customer service at check in. Such a scenic course that winds its way around the Crystal River. I love that you actually have to go over the river from several tee boxes, wh...
» More