Over 65,000 Members!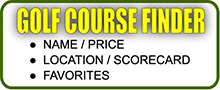 Greenskeeper.org Info
"Know Before You Go"
free online community, golf social network, golf course reviews, course maintenance alerts, photos, specials, tee times, outings, more.
---
Golf Course Maintenance Alerts
729 Posted
Golf Course Reviews
Arroyo Trabuco Golf Club
Mission Viejo, CA
Reviewed by:

trevorbmeyer, Mission Viejo, CA
I love this course. The course play is great for what it is. It is a wonderful, beautiful hidden gem. I love that there are no houses on the course. Usually when someone says that the main attribute of the course is its beauty, it can be a bit of a dog - but not Arroyo Trabuco. The fairways are the best that I have ever seen the course. The greenskeeper has been there for over ...
» More
Ridge Creek Dinuba Golf Club
Dinuba, CA
Reviewed by:

Alex326, Monterey, Ca
Played Ridge Creek Friday morning with a 7AM tee time. Staff is excellent and they let me start on the back nine so I could join JusGas88 and another friend for the front nine on their 9AM tee time. Fairways continue to steal the show with absolutely near perfect fairways. Very lush and a nice deep emerald green color for the most part.
Greens rolled a little slowe...
» More
Marine Memorial Golf Course
Camp Pendleton, CA
Reviewed by:

Itslikeimsayin, Aliso Viejo
Played here today with Nickesquire for our GK Cup semi-final. 1:54 tee time, sent off by ourselves. Quickly caught the group in front of us and invited a twosome behind to join us on the third tee. One of those guys bailed after 9. Total POP a little erratic 4:40-ish where sometimes it seemed like we were fast and other times seemed like we were holding everyone up. Quite windy...
» More